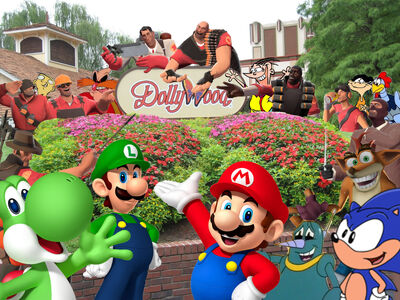 Mario, Sonic, the Eds, and Friends Go to Dollywood will be an upcoming mini-series of the show.
Featured Rides
Edit
Smoky Mountain Wilderness Adventure
Daredevil Falls
Thunderhead
Mystery Mine
Tennessee Tornado
Blazing Fury
Wild Eagle
The Barnstormer
County Fair Rides
Dreamland Drive-In
Characters
Edit
Mario
Luigi
Yoshi
Sonic
Robotnik
Scratch
Grounder
Ed
Edd
Eddy
Crash Bandicoot
Heavy
Scout
Engineer
Spy
Demoman
Soldier
Sniper
Medic
Clips Used
Edit
Super Mario Bros. 3 / Super Mario World Clips
Edit
Adventures of Sonic the Hedgehog Clips
Edit
Ed, Edd 'n' Eddy Clips
Edit
Other Sources
Edit
Voice Cast
Edit
Walker Boone as Mario
Tony Rosato as Luigi
Andrew Sabistion as Yoshi
Jaleel White as Sonic
Long John Baldry as Robotnik
Phil Hayes as Scratch
Garry Chalk as Grounder
Matt Hill as Ed
Samuel Vincent as Edd
Tony Sampson as Eddy
Jess Harnell as Crash Bandicoot
Gary Schwartz as Heavy / Demoman
Nathan Vetterlein as Scout
Grant Goodeve as Engineer
Dennis Bateman as Spy
Rick May as Soldier
John Patrick Lowrie as Sniper
Robin Atkin Downes as Medic
Dolly Parton as Herself (Smoky Mountain Wilderness Adventure)
Ad blocker interference detected!
Wikia is a free-to-use site that makes money from advertising. We have a modified experience for viewers using ad blockers

Wikia is not accessible if you've made further modifications. Remove the custom ad blocker rule(s) and the page will load as expected.