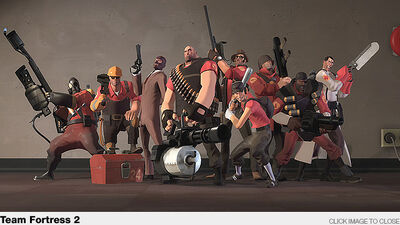 The Team Fortress 2 Squad is a group of main characters featured on the show.
Voiced by: Gary Schwartz
Ethnicity: Russian
Voiced by: Nathan Vetterlein
Ethnicity: American
Scout is the resident Jerkass of the group, constantly making fun of or insulting the situation at hand. However, after meeting Zoey on Men in Black: Alien Attack, he has since become a Jerk with a Heart of Gold.
Voiced by: Grant Goodeve
Ethnicity: Canadian
Voiced by: Dennis Bateman
Ethnicity: French
Voiced by: Gary Schwartz
Ethnicity: Scottish
The Demoman is the versatible/naive Brown Skinned explosive creator of the team. He once saved his friends from the Unhuman Terrors of the Superstar Limo.
Voiced by: Rick May
Ethnicity: American
Voiced by: John Patrick Lowrie
Ethnicity: Australian
Voiced by: Robin Atkin Downes
Ethnicity: German
Pyro (Cameo Appearances only)
Edit
Voiced by: Dennis Bateman
Ethnicity: Unknown