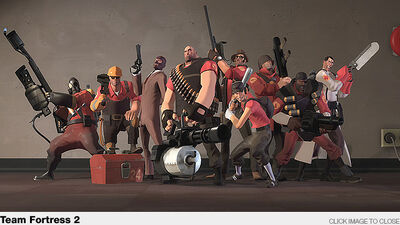 The Team Fortress 2 Squad is a group of main characters featured on the show.
Heavy
Voiced by: Gary Schwartz
Ethnicity: Russian
Scout
Scout is the resident Jerkass of the group, constantly making fun of or insulting the situation at hand. However, after meeting Zoey on Mario, Sonic, the Eds, and Friends Ride Men in Black Alien Attack, he has since become a Jerk with a Heart of Gold.
Voiced by: Nathan Vetterlein
Ethnicity: American
Engineer
Voiced by: Grant Goodeve
Ethnicity: Canadian
Spy
Voiced by: Dennis Bateman
Ethnicity: French
Demoman
The Demoman is the versatible/naive Brown Skinned explosive creator of the team. He once saved his friends from the unhuman terrors of the Superstar Limo
Voiced by: Gary Schwartz
Ethnicity: Scottish
Soldier
Voiced by: Rick May
Ethnicity: American
Sniper
Voiced by: John Patrick Lowrie
Ethnicity: Australian
Medic
Voiced by: Robin Atkin Downes
Ethnicity: German
Pyro (Cameo Appearances only)
Voiced by: Dennis Bateman
Ethnicity: Unknown